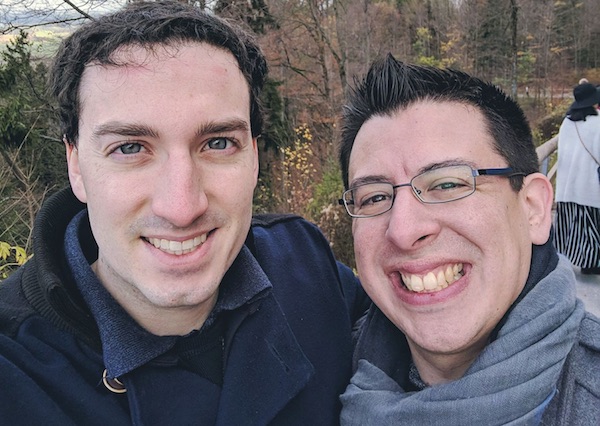 Ethan and Joseph Bishop-Henchman
by John Riley, metroweekly.com
When all votes were tallied, a married gay couple who ran as part of the D.C. Libertarian Party's all-gay slate outperformed the Republican Party in the District's 2018 elections.
Joseph Bishop-Henchman, who ran for D.C. attorney general against incumbent Democrat Karl Racine, and Ethan Bishop-Henchman, who ran for Council Chairman against incumbent Democrat Phil Mendelson, received 14,941 votes and 18,708 votes, respectively. By comparison, At-Large D.C. Council candidate Ralph Chittams, Sr., the top vote-earner for Republicans, received 12,629 votes.
The two other citywide Libertarian candidates, Martin Moulton and Bruce Majors, won 7,569 votes and 4,034 votes, respectively, in their races for mayor and the District's non-voting delegate to Congress.
"We think an all-gay slate running for office in our nation's capital is unprecedented," Libertarian National Committee Chair Nicholas Sarwark said in a statement. "When it comes to respecting the rights of all the people, all the time, we put our money where our mouth is."
D.C.'s all-gay Libertarian slate was a historic first, following in the footsteps of the national party, which was the first political party to endorse marriage equality, nearly three decades before the Democratic Party did in 2012. The Libertarian Party was also the first party to run an openly gay presidential candidate, John Hospers, in 1972. Hospers' running mate, Theodora "Tonie" Nathan, was the first female Jewish candidate for vice president, another historic first...
To read article in full, click here.