"It's a changing world. Anything goes. This absurd future may not be the one you want, but nothing is out of the question anymore," said Zoe Nawar.
by Ryan Broderick, Buzz Feed News
John McAfee, a one-time antivirus entrepreneur who has become a cult figure for internet libertarians and cryptocurrency enthusiasts, is gearing up for a 2020 presidential run.
The British American computer programmer announced over the summer that he was going to run in 2020. McAfee lost the Libertarian Party nomination to former New Mexico governor Gary Johnson in 2016.
McAfee is best-known for creating and selling McAfee antivirus software. He was then accused of murder — which he denies. He then rebranded himself as the CEO of a cryptocurrency firm, which he severed ties with.
On Thursday, McAfee tweeted the words "McAfee 2020" written over a picture of Spike Spiegel, the main character from the anime Cowboy Bebop.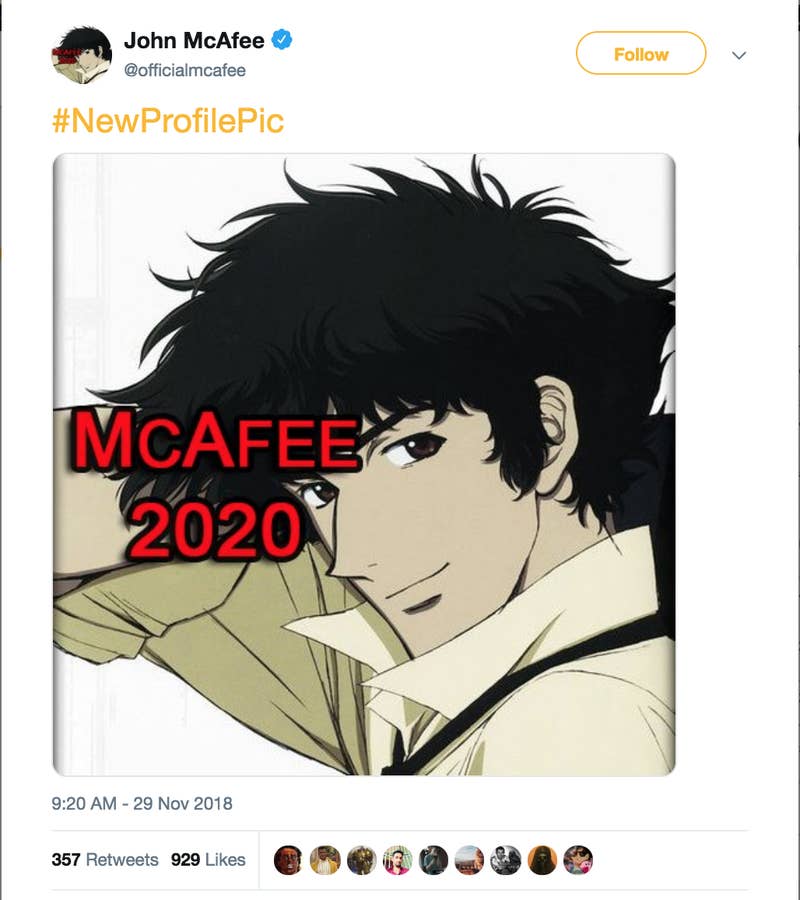 The response on Twitter was pretty immediate. One user replied, "ANIME IS BAD."
McAfee's Twitter activity is pretty erratic. Earlier this week, he tweeted about having sex with whales, writing, "Some call me 'Whale Fucker'. Alright. There's a private club of a few dozen Maori men and one butch woman - that meet in Molokai each year to fuck a whale. True. Men on paddle boards herd the whale while one tries to fuck it. Wouldn't let me in the club. Tried it alone. Epic fail."..
To read article in full, click here.